Summary rating from user's marks. You can set own marks for this article - just click on stars above and press "Accept".
Accept
Google Glass XE 2.0
"Although it has a hefty price tag of $1500, it is currently the most popular wearable out there, and is bringing competitors out of the wood work to create a comparable piece of technology."
---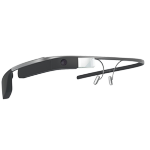 The Google Glass XE 2.0 is the most popular piece of wearable technology on the market today. It is not only innovative, but it is also sleek and stylish. Who wouldn't want to wear this sci-fi looking glass? Glass is designed for those who move, explore the world and never miss a moment. It is packed full, leaving nothing to chance and opening up a digital world ready to explode beneath your eyes. Google Glass aims to change the way we see and use mobile computing. No matter what your vocation, it is emerging to make breakthroughs in every industry that needs to record tasks. Google Glass is a game-changing product ready to meet the virtual world head on with the real world, and will win fans all over the world. Glass is making it easier than ever to capture a demonstration, event or task from different perspectives. This capability opens up new opportunities for knowledge sharing in a range of fields. Google Glass is a device that can cut corners for you, and it is designed for you and what you do.
Google Glass' Co-Founders are Sergey Brin and his Google team that consists of only about 40 people. Their vision is to improve social interactions and enhance eye contact. They believe that we should not spend our time submerged in a smart phone looking down and out of the sight of people, essentially isolating ourselves socially. Not only will this technology free up our hands and eyes though, but also our ears, as they will not be covered with a phone. It is important for the world to know that Google Glass is not meant to be a spying device, but a calm and relaxing form of technology that lets you know when things are going on. Google Glass is simply a platform in wearable technology, just as the iPhone is a platform for smart phones. On an intellectual level, it is understood that Google Glass is a tech product that you place on your head, which lets you perform these tasks. But on an experience level, these things start to feel like they're extensions of you. As Google continues to evolve Glass, it has the potential to alter our daily lives as a smartphone has, if not even further.
There are an extremely large amount of applications and specs tethered to Google Glass that make it the most popular Glass out there. Google Glass is for many different types of people no matter their age, occupation, ethnicity or technological ability. It is for those who are active, who like to explore the world, and who want to live lighter. It is packed full of digital information that is all hands free. For the active person, Google Glass is enriched with many ways to help you get fit and stay fit. It uses Strava Running and Cycling apps that allow you to run and ride with GPS, analyze performance, set personal goals and visualize progress. It has Lynx Fit as a personal fitness coach that keeps you on track with your fitness goals. If you like to listen to music during your workouts, it also has Google Play music. It has a navigational tool so you never will get lost again. It even helps the golfer improve and track his game through Golf Sight and Swing Byte.
It also allows you to send a message or make a call hands free using voice detection. For the person who likes to explore the world, there are many features for you as well. No matter where you are, even if you are in another country, you can use the Word Lens feature, which lets you see the world in your own language. Of course, you can use Google Search to find anything you need or want, and naturally there is a camera and video feature that allows you to capture images and footage at any moment with a 5 megapixel camera and 720p HD video. You can even share your footage instantly with social networking sites.
The Fieldtrip app channels the best of hundreds of hyper local experts and trendsetting publications. Google Now enables you to travel easily, and there is even a compass feature to guide you on your journeys. Other features of Google Glass include Google News that keeps you updated on world and local events, All the Cooks that lets you find and share recipes, and Evernote that allows you to speak to save, access and organize information you want. Google Glass is not only packed full of features, but it is also available in multiple colors, frames, shades and earbuds. There are four feather-light titanium frames available with or without prescription lenses. It has twist-on shades with polarized, impact resistant lenses that provide durability and strength. Glass is controlled by using voice activation, and when the wearer says, "OK Glass", the device leaps into action and performs most of what a smart phone can do, all while using voice commands in a hands free form and taking the viewpoint from the wearer's eyes. One downside to Glass is that it works the best with Android. Sorry iPhone users, but Apple has a lot of restrictions that hinder Glass features.
Although it has a hefty price tag of $1500, it is currently the most popular wearable out there, and is bringing competitors out of the wood work to create a comparable piece of technology. When you grab some simple smartphone-like features, turn them into hands free technology and place them into your field of vision, it's easy to see how intimate computing can become. Don't get left behind when wearable technology, especially Google Glass, catches on and takes off, making the virtual world of the future real time and right now. Google Glass XE 2.0 rounds out our list of iReviews 2014 best smart glasses.
Related YouTube videos: