Summary rating from user's marks. You can set own marks for this article - just click on stars above and press "Accept".
Accept
Pivothead SMART
"Pivothead has a narrow aim and dominates in the world of video and image quality."
---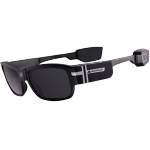 Imagine all of those special events in your life that you want to capture forever, like a birthday party, wedding, hike in the mountains and so many more. With the Pivothead SMART glasses, you can do just that, hands free. SMART is short for Simple Modular Application-Ready Technology. SMART glasses contain a camera for your eyes that allows you to look directly into the eyes of the person you are capturing on film, while the other person is looking into the camera lens, giving you a more intimate and personal experience. Prepare to record, capture and share your life at any given moment with this hands-free device. SMART is most well-known, in fact, for its wearable HD camera, and these glasses are simple and intuitive right out of the box.
SMART is created by a company called Pivothead, which envelopes a diverse group of employees from the U.S., France and China who have spent years designing, testing and refining what would become their initial product. They started with a small concept and it erupted into this wonderful product. The concept for Pivothead started with an idea that the world needs a better way to capture true, hands-free first-person video. They discovered that there is no better way to view the world than through the eyes of another person. They then embarked on a mission to create the world's first 1080p full HD experience recording eyewear.
Not only did they do it technically, but they did it with style. They are a very hard working group of people dedicated to marketing only the best in video. They produced hundreds of pairs of glasses, and scrapped them all, until they were satisfied that their products were not only a technological feat, but were also comfortable, stylish and easy-to-use. They finally launched in July of 2012 and they haven't stopped innovating since.
The SMART glasses by Pivothead have the best video quality hands down, with live video streaming and 1080p high definition. There are tiny cameras built into the bridge of the nose that can take 1080p HD video and 8 megapixel photos that happen to be the same quality specs found in Apple's iPhone 5S. In comparison with Google Glass' camera that is located above the temple, SMART's camera is in the center between your eyes. There are also smart mods hidden behind the ears. Google Glass is a potential rival, but they are an indirect competitor having different focal points. With a heads-up display, data link and ability to respond to a user's voice, a product like Google Glass is designed for early-adopting gadget lovers, and the emphasis isn't on the image quality and shooting video of everyday life such as Pivothead is. After all, the camera in Glass only takes 5 megapixel photos and 720p video, which is a far cry from Pivothead's 8 megapixels and 1080p video.
The latest models are comparable in size and weight to a pair of sunglasses, and they come with clear, tinted and light-sensitive "transition" lenses. The glasses are prescription friendly, with lenses that can be removed and replaced. Other features of the SMART include a fuel MOD 1000mAh replaceable battery pack, as well as LED charge indicators. You are also able to connect via Wi-Fi, Bluetooth and USB. There is a microphone to record audio, augmented GPS, smart watch control, micro SD card slot, integrated NFC, accelerometer, gyroscope and gesture recognition. It even connects to a computer via a USB cable, which enables you to download your pictures and videos you have captured. When ordering Pivothead SMART glasses, you are able to choose features and enhance your device with several different choices. You get to first choose your pivot head, as there are two models and five different styles. Next, you can enhance your device with wireless, cases, power and lenses. They even offer prescription lenses to meet the needs of an even larger population. Be prepared to capture and show everyone what the world looks like through your eyes.
Pivothead is not marketing to a specific age group or economic status, but rather to people who wish to share what they are doing with family, friends or even a larger public audience. In the consumer market, that could mean parents who want to record a video or create a digital photo album. It could also include anyone who wishes to use the Wi-Fi connectivity to upload photos and video to social media through Pivothead's apps for Android and iOS. Pivothead has a narrow aim and dominates in the world of video and image quality. Between the price of $629 and the capability of SMART with most smart phones, these glasses are a great value. So, if you are tired of dragging around your smartphone or digital camera hoping to be able to get it out, on and ready to aim before the moment you wish to capture is lost, then SMART by Pivothead is right for you, and a worthy entry into our list of iReviews 2014 best smart glasses.
Related YouTube videos: